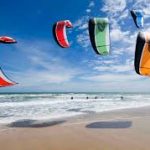 Considering that we only have so much time off from work — and that family vacations aren't exactly cheap, it's imperative to make sure you enjoy that sacred time as much as possible.
Here are three strategies to relax, disengage and make the most of limited vacation time.
Manage your expectations
Studies have shown that the people of Denmark are among the happiest in the world — and that this satisfaction is partially attributed to their low expectations about what's to come. Thus, they find themselves "pleasantly surprised" when life brings them joy.
Hope for a good trip, rather than anticipating you're in for the best week of your entire life. This will help to curb disappointment if things don't go perfectly, and may even inspire you to create a fun plan B in case you run into less-than-ideal vacation conditions.
Detox from your devices
If really need a computer while you're away, then bring it. But if you can leave something behind, do. Your brain, and travel companions, will probably thank you for it.
Besides, without a device to distract you, you'll have easier time letting go of your "real life" and tuning in to those can't-miss-moments like a beautiful Ocean City sunset.
Pack like a pro
Don't get worn out before you even leave. Use a basic packing list as you prepare for your trip. Joan Didion, for example, would keep a packing list taped inside her closet during her years of steady reporting and traveling. And you don't even have to create it yourself:
Whether you're journeying on a warm-weather weekend, a month-long holiday, or a four-day Inca trail hike on Machu Picchu, there's a list here for you to reference.