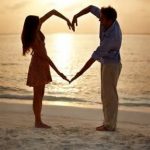 One of the hardest parts of Valentine's Day is deciding how to make it "perfect" for that special someone. Well, what about something completely new this year?
Ocean City is the perfect place for a romantic getaway. Be sure to click here to view our available rentals to make it a Valentine's Day you'll never forget. And while you are at the beach, enjoy a horse and carriage ride along the boardwalk.
For $40, couples will receive in a box of chocolates, a rose and glass of bubbly for the ride. To make reservations, call Randy Davis at 443-783-1409.